Welcome, Witamy, Bienvenue, Hoşgeldiniz, خوش آمدی, Velkomst, 欢迎, Benvenuto, Bienvenido, أهلا بك Welcome, Witamy, Bienvenue, Hoşgeldiniz, خوش آمدی, Velkomst, 欢迎, Benvenuto, Bienvenido, أهلا بك
Click on the Ofsted Parent View logo above to leave your views of our school.
Welcome
I am very proud to be the headteacher of Peter Gladwin school. We are a one form entry, inclusive, community school in the heart of Portslade village
The school's motto, 'Dream, Believe Achieve is at the heart of all that you do. Your belief is that every child can achieve' (Ofsted 2019)
Together, our caring and dynamic school community strive to ensure that all pupils grow to be lifelong learners, who achieve their very best and develop as confident, emotionally literate, globally aware citizens.
Please explore our website where you can find information about our school ethos (we are a UNCRC 'Silver' Rights Repecting School), our fabulous learning environments (vibrant classrooms and extensive natural outdoor spaces), our creative and stimulating curriculum and our wide range of extra-curricular and enrichment activities.
If you would like any more information or organise to visit, then please contact
school.office@gladwin.brighton-hove.sch.uk
Vicki Strange (Headteacher)
SUSSEX COA

ST Schools alliance
Peter Gladwin school is a member of the Sussex Coast Schools Alliance (SCSA).
SCSA takes a lead role in helping schools across the city and beyond to develop and improve, in particular working with schools to develop leadership, train new teachers and drive up standards.
For more information please visit the SCSA website:
Meet Betty our PGS Dog. Click on her photo to see our 'Dogs in School' policy.
Applying for a School Place in 2024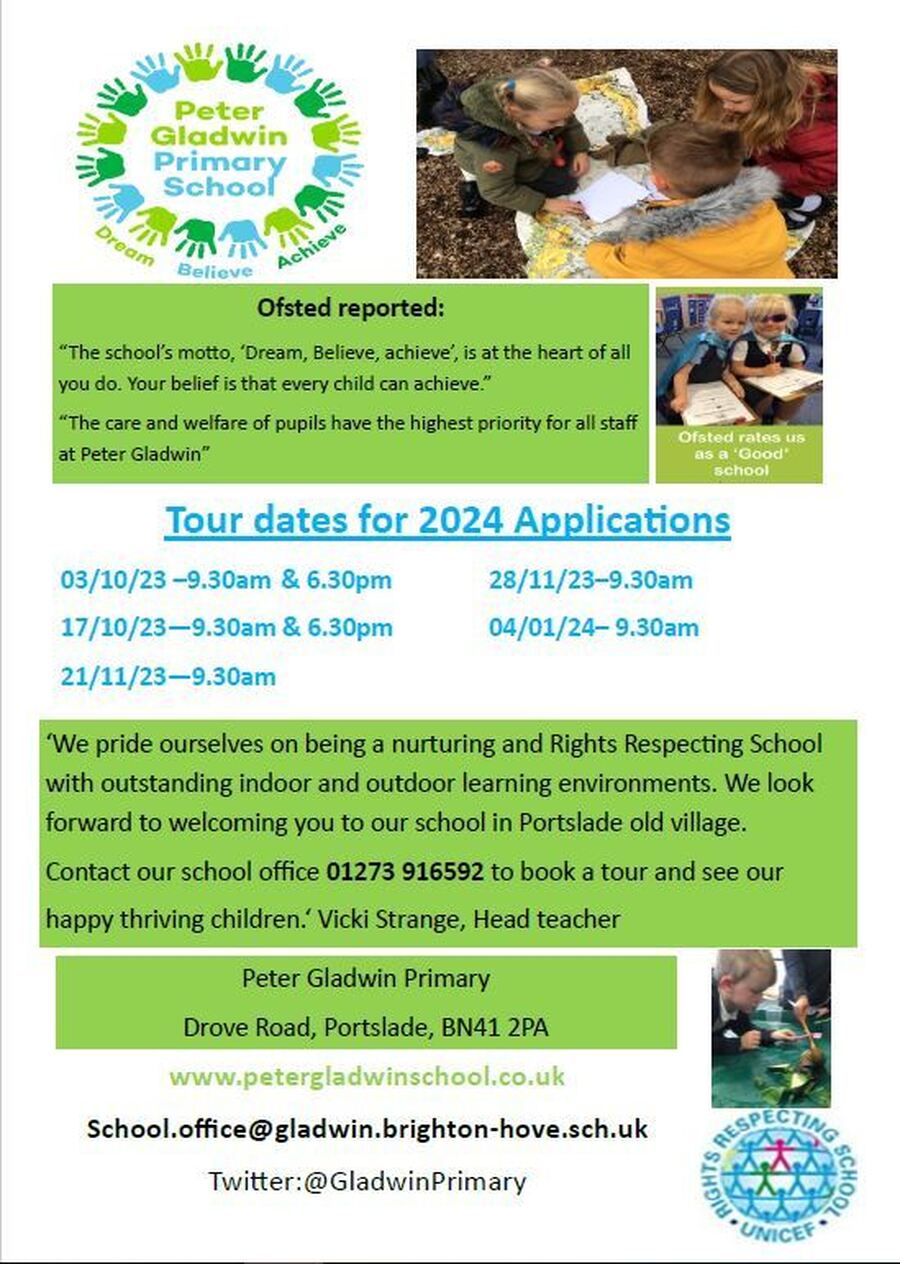 Breakfast club at PGS!
Our own PGS staff run a Breakfast Club in the school hall from 8am each school day morning.
Parents will need to book via Parent Pay. Details and forms to be filled in prior to booking are available here:
Booking PGS Breakfast Club using Parentpay
PGS breakfast club medical form
or from the school office. Please contact the school office for any further details.
Bowles Activity Centre trip planned for our Y6 class in November 2023!
Have a look at this PowerPoint presentation to see what amazing adventures lie ahead:
Bowles PGS residential Nov.22 slideshow.pptx
And check out this link to more information about Bowles: